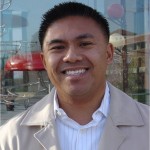 Javy Wong Galindo, M.A., M Eng., is a self-proclaimed creative thinking dimwit who has a penchant for over exaggeration. He is a college psychology, philosophy, and humanities instructor in Northern California, and a highly sought after speaker on the "non-pursuit" of happiness and creative thinking. Javy is most well known for being the author of The Power of Thinking Differently: An imaginative guide to creativity, change, and the discovery of new ideas. This creativity author and creative thinking speaker has helped numerous individuals and groups be creative in a wide array of activities and disciplines.
His interests in thinking differently began the first time he answered a question incorrectly on a test, which surely occurred early and often in his childhood. As a youth, he developed a passion for storytelling, creative writing, sketch comedy, and performed in various instrumental music ensembles. This affinity for creative endeavors naturally led him to a decade long career working in a cubicle as an electrical engineer. He holds both a master's and bachelor's degree in electrical engineering from UC San Diego with minors in philosophy and music theory.
While working as an engineer for companies such as Motorola and Northrop Grumman, Javy participated in various corporate creativity workshops. At the same time, he continued to feed his creative hungers by being an educator for several southern California non-profit youth arts organizations and as a San Diego high school music instructor.
In 2007, Javy took a hiatus from his engineering career to pursue an academic investigation of the creative process at John F. Kennedy University in Pleasant Hill, CA. Here he earned a master's degree in consciousness and transformative studies specializing in the psychology of creativity and east-west philosophy. He currently instructs college courses in Philosophy, Psychology, Humanities, and Statistics. When he's not preparing a lesson plan or speaking on creativity, Javy can be found singing at a club, performing bad comedy improv, writing an unfunny comedy sketch, or running poorly on an uphill trail.
Javy's claim to fame was a television appearance as a dancer during the end credits of the short-lived cable talk program, "The Orlando Jones Show".He can easily be spotted in the closing moments of the July 20th, 2003 episode as the young man with blue jeans, white t-shirt, and no rhythm.
Javy is available for lectures, workshops, coaching, and interviews. Contact him by phone (408) 357-0504 or email him at jwgthink (at) aol.com.
For more information: JavyGalindo.com | LinkedIn 
*
Ask Javy a Question  Submit a Speaking Request