(An updated media kit can be found here.)
The following is a media kit for creativity speaker and author Javy W Galindo. Below you will find the latest press releases, a headshot link and biography, book cover link and book review, faq, top 25 questions, and a topics list.
Javy W. Galindo welcomes opportunities to speak with the media about creativity and "thinking differently". You can leave him a message through his contact page.
Bio: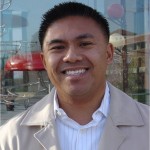 (Short Version) – Javy Wong Galindo, M.A, M. Eng., is a self-proclaimed creative dimwit who is working real hard to become better. He is the author of The Power of Thinking Differently: An imaginative guide to creativity, change, and the discovery of new ideas. In addition to spending several years researching the creative process at the graduate level, this former electrical engineer and performing arts instructor has over 13 years of experience providing creative consultation. He has successfully helped others exercise their creativity through workshops, seminars, and personal coaching. Javy currently teaches college courses in psychology and philosophy, and is available as a lecturer, consultant, and for interviews and book readings. (Read Full Version)
Book Review: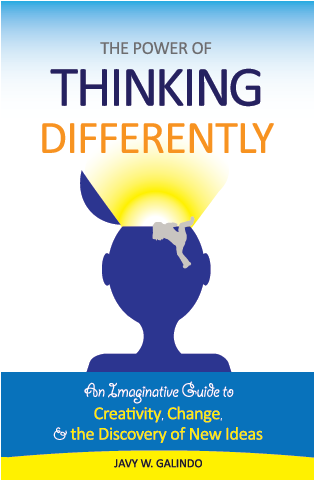 These tough economic times have led many to feel stuck, and in search of alternatives and new ideas. Recent political discussions often mention the need to escape groupthink in order to implement change. But how do we accomplish this?
According to local Bay Area creativity expert, Javy W. Galindo, it may be simple as developing a sense of humor, a sense of play, and learning how to relax.
In his new book, The Power of Thinking Differently, Galindo lightheartedly explores the roots of our thinking habits and provides an imaginative six-stage roadmap to discovering fresh ideas and implementing creative change. We come to see that creativity isn't just for creative types. It turns out that we all have the inherent capacity to think creatively and attain creative…—> Continue reading…
"Loved this book. The author explores the psyche and tries to blows the doors open for creative inspirations. The uniqueness of this book makes this a superior read for anyone exploring and producing on a regular basis out-of-the-box ideas and changes." Amazon reviewer Jesse Light "Jackon"
Media:
Javy W Galindo is an excellent public speaker who is always engaging, fun, and funny in front of the camera and during audio interviews.
Media highlights include the following…
FAQ:
What is The Power of Thinking Differently? It is a book about the creative process, creative thinking, and creative insight. It is meant to be an ordinary, common person's guide to exploring the uncommon world of creative possibilities.
What do you mean by "thinking differently"? It is a term I use to describe the out-of-the-box thinking needed for creativity, ingenuity, problem solving, and for transcending conventional wisdom and groupthink in order to find new and deeper ways of experiencing the world.
Who should read The Power of Thinking Differently? Anyone interested in new ideas, new perspectives, unique solutions to difficult problems, novel ways of doing things, or anyone just looking for some guidance in their creative endeavors.
Why is The Power of Thinking Differently important? It impacts everything from community issues, cultural conflict, emotional distress, relationships, spirituality, and enhancing purpose and meaning in one's life. It shows how we can all learn to live more creative lives.
Isn't creativity only for a select, special few? No. Actually our brains are made for creative thinking. We just need to cultivate this faculty and have the desire to be creative.
Top 25 Questions:
How does creative thinking help deepen meaning in people's lives?
What are the common traits of creative people?
Isn't creativity only for a select, special few?
Why is a sense of humor important to creative thinking?
Why are games important to creative thinking?
Why is creative thinking important?
What is more important, creative thinking or logic and reason?
How do we think when we're not thinking differently?
Why is it so hard to change the way they usually think?
How can I exercise my creative muscles?
How can I become more "insight" prone?
Topics List:
The following is a list of suggested topics to discuss with Javy W Galindo in interviews concerning creativity, creative thinking, and The Power of Thinking Differently.
Creative approach to careers

Creativity and innovation

Creativity and social and political change

Significance of creativity

Practicality of creativity

Creativity and personal growth

Creativity and psychological healing

Creativity, stress, and relaxation

Enhancing artistic expression

Creative thinking techniques

Thinking habits, groupthink and conventional wisdom

Thinking "outside the box"

Getting beyond creative blocks

Thinking creatively about employment

Thinking creatively about cultural diversity.

Creativity and spirituality

Creativity and transformation

Creativity and improvisation